Also known as the Mahogany trail, Umuyove trail in Nyungwe National Park is one of the most exciting and shortest trails that leads tourists to the waterfalls, the feeling of having a sight of the scenic and attractive waterfalls at the end of hiking this trail is worthwhile and so breathtaking. Take a stroll deep down into the vast and mist covered rain forests of Nyungwe National Park, with undoubtedly a million treasuries to uncover, following the Umuyove trail that will give you the opportunity to discover much about the details of beautiful attractions found here.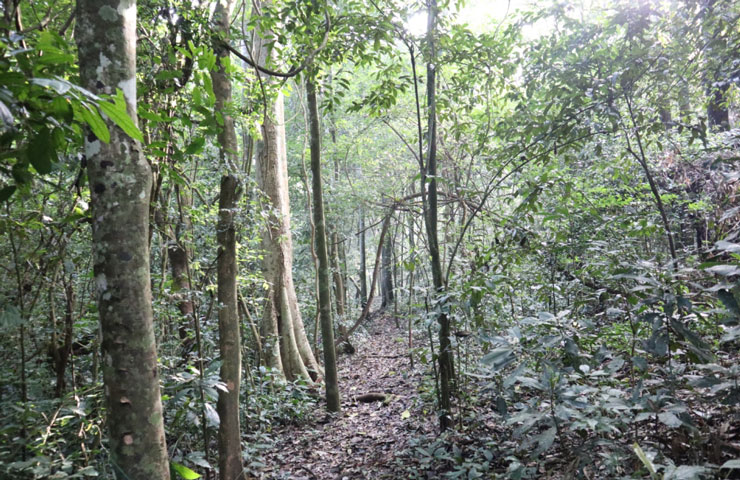 The Umuyove trail in Nyungwe National Park covers a journey of 5.5 kilometers and usually takes 2 to 3 and half hours to complete which makes it the shortest and famous trail in the park done by tourists. Experience the most fantastic views and amazing sightseeing opportunities from the numerous and tallest mahogany trees that are lined up on this fascinating trail, from which the trail derives its name since Umuyove means Mahogany.
Hiking the Umuyove trail in Nyungwe National Park doesn't require any kind of hiking experience even the less fit can probably make a complete round trip nature walk on this trail. This is because it mostly provides ease in hiking which makes for an enjoyable and tireless adventure that is filled with a lot of beautiful discoveries.
Strolling down this trail, visitors are able to encounter with some primates such as the Angolan Colobus Monkeys and grey- cheeked mangabey monkeys that are spotted up in the mahogany trees, numerous and abundant bird species, attractive butterflies, an array of beautiful flowers and orchids from the verdant vegetation and undergrowth that teams with streams of water flowing through the forest floor.
The Umuyove Trail in Nyungwe National Park pretty easy to hike also rewards visitors with breathtaking sceneries of magnificent waterfalls with clear views that will refresh your mind and spice up your adventure.  If you are interested in the famous and most popular Chimpanzee trekking activity in Nyungwe National Park, the Umuyove trail also provides access to several other connecting nature trails that will grant you a chance to meet and encounter with the chimps.
Tourists that have visited Nyungwe National Park for Nature walk adventures also do chimpanzee trekking, canopy walk experiences, Colobus Monkey treks, waterfall hikes among others and they are rewarded with unforgettable moments.