Nyungwe Nziza Eco lodge, one of the moderate lodges, found in areas of Nyungwe national park. If you're looking for accommodation in Nyungwe National Park and would wish to get something that is of moderate budget, then this is one of the places you should consider looking at. The lodge is a few kilometers drive, from Huye side, near the small town of Kitabi, towards Nyungwe forest, and offers a selection of accommodation options, such as the tented safari camps, hotel rooms and camping ground tents.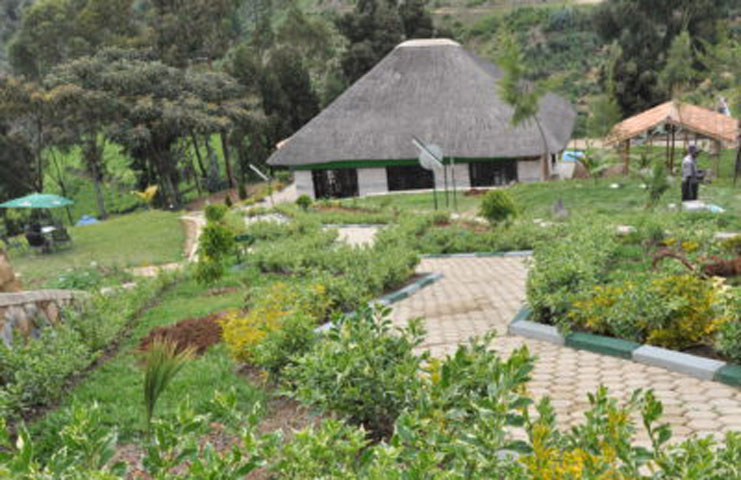 For those needing camping ground, the hotel also hires out their ground to those who would wish to camp around. The camp ground is well maintained with a great view of the forest and tea plantations. Those camping have access to the lodge bar, restaurant and the cleanliness facilities at the lodge premises. The Nyungwe Nziza Eco Lodge, is built in semi traditional architectural style, with great view of the forest. The lodge stands on a small hill, which will reward you with great view of the neighboring tea plantations.
The lodge can easily be reached, via Kigali – Huye route, as you head to Nyungwe. Those from Kivu side, will have to pass through the forest park road towards Kitabi. The nearest airport is Kamembe Airport, 56 km from the accommodation. The lodge has an onsite restaurant and small bar, which serve great food, at a reasonable price. Advance booking is highly recommended, so as to secure your booking and find all arranged for you.
You can stay at Nyungwe Nziza Eco Lodge, if you intend to do chimpanzee trekking, canopy walk, colobus monkey trek, bird watching, trail hiking and nature walk in Nyungwe National Park, where you can easily drive to on the next morning for your booked park activities in the park. Book your stay at Nyungwe Nziza lodge, and enjoy a cool ample time, gazing at the beautiful forest canopy.