Waterfalls hike in Nyungwe National Park is one of the top highlights of adventure activities to do in Nyungwe National Park. Among the richly treasured attractions found in this National Park are the numerous waterfalls, the most beautiful and tropical Isumo Waterfalls tucked away deep in the rain forests feature as the biggest waterfalls you can visit in Nyungwe National Park for a breathtaking adventure experience.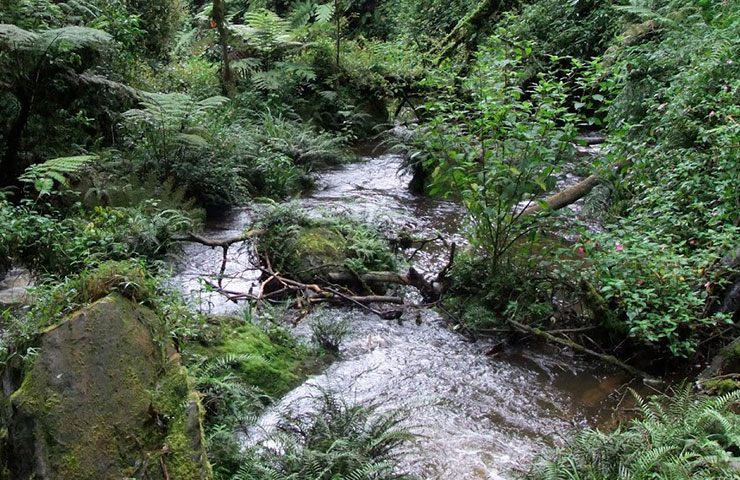 Waterfalls hike in Nyungwe National Park is simply a breathtaking and rewarding adventure experience with exceptional encounters and sights, visitors discover a lot more of the hidden treasures in the mist covered Nyungwe forests that feature magical views of the beautiful Isumo waterfalls. Isumo is a local Kinyarwanda word that means waterfall that stands between tree ferns, saplings, verdant vegetation, on 17 meters high above sea level with water pouring down to produce beautiful misty plumes a rocky river surrounded by mosses, herbs and lichens enhancing a very stunning scenery to marvel at.
At Isumo waterfalls, immerse yourself into the cool moist air while enjoying the sounds and callings of beautiful birds, frogs and insects, while you've descended to the outlet river below the falls, standing on wet rocks close to the bottom of the falls with sprays of waters from the falls pouring on you, watch thrillingly the flowing river surrounded by beautiful colored butterflies and this will give you a wonderful feeling of connecting deeply with nature. You may also opt to take a short walk to the picnic bench overlooking the falls in a distance of 50 meters, and there catch an amazingly great moment to enjoy the fascinating scenic views while you take a sip of your refreshing drink and a light snack.
Most popularly Waterfall's hike in Nyungwe National Park gives visitors an incredible hiking experience of roughly 4 to 5 hours round trip to Isumo Waterfalls, through the most densely vegetated and steepest rain forest ravines following the Isumo waterfall trail that offers sights of beautiful flora and fauna.  From certain highly elevated vantage points on your Waterfalls hike in Nyungwe National Park, you are able to get clear views of Lake Kivu and the far sights of Democratic Republic of Congo
The Isumo waterfalls walking trail is such a rewarding trail with countless encounters, that strolls through tea plantations, dense forest ravines covered with beautiful wild flowers and the lush rainforests giving hikers a remarkable experience to watch numerous bird species, there is an opportunity to sight the exceptional Rwenzori turaco that is amazing to see, a variety of butterflies, you can observe from a close range the great primates of Nyungwe such as the Angolan black and white Colobus monkeys, usually seen in large troops, Vervet monkeys, silver monkeys from the tree tops and thickets among others.
Apart from Isumo Waterfall that is popularly known as the biggest, there are other many waterfalls found in Nyungwe National Park, the second biggest being Kamiranzovu waterfalls which are named after the ancient Kamiranzovu marsh that is dramatically formed in a caldera like depression surrounded by thumb thickets and montane forests another unique treasure you would discover if you hiked through Kamiranzovu trail. Many other small waterfalls are patched in the tropical forest ravines of Nyungwe and hikers who stroll down deep into the rain forests following the imbaraga trail get a chance to sight four of Nyungwe's waterfalls.
Nyungwe National Park is rich in diversity, but the entire country of Rwanda is just another place you would wish to escape to for your adventure travel, from every corner of the land of a thousand hills is unique discoveries. You can go to the north for a whole other primates and hiking adventure featuring remarkable Gorilla safari in Volcanoes National Park, or to the east for a wildlife safari in Akagera National Park.