Umugote trail in Nyungwe National Park, one of the moderate and famous trails to hike in Nyungwe National Park.  The trail is roughly 3.6 km and takes around 3hour's for a round trip on it. Umugote trail reveals exceptional views of rounded ridges, as far as the mountains of Kibira National Park in Burundi.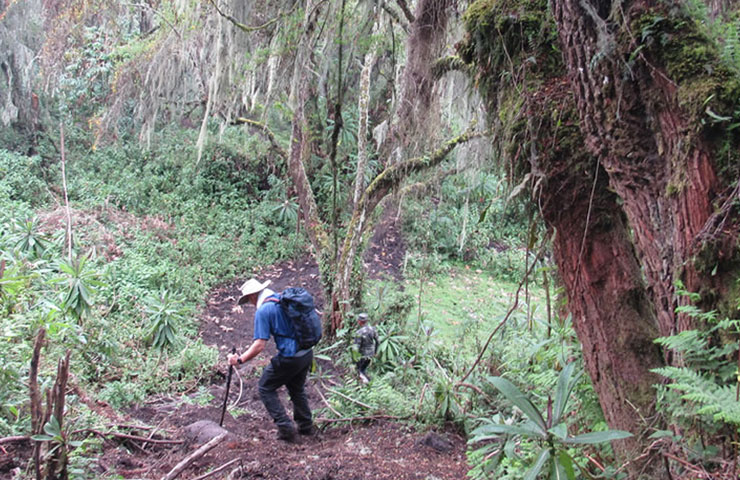 Umugote trail, is one of the unique, and most unique and amazing trails, with great view, and overlook of the syzgium trees, of which the trail is named after, which are spotted along the trail, as well as the beautiful overlook of the Burundi's mountain, as the trail is along the borders of Nyungwe National Park in Rwanda, with Burundi. The syzgium trees, appear along the trail in abundance, this led to naming of the trail. Some of the special specimens of this trail include impressive strangler figs. When in fruit, these trees attract primates, birds and other wildlife.
There is a good chance of seeing monkeys on the Umugote Trail, especially blue or mountain. If you keep still, some primates will actually move closer to investigate their human visitors. You may notice some of their narrow paths disappearing into the bush. Other mammals sometimes seen along this stretch of trail include bush pigs and duikers. Listen for cicadas, crickets, tree frogs, birds and other primates. Watch the swirling flights of butterflies, brightly colored or camouflaged to blend right into the forest itself.
Birders love this trail for the wide array of species that inhabit this part of the forest and are easily visible from many of the intersects with the main road. Some guides say there is a 95% chance of seeing a Great Blue Turaco. You may also see Red-collared Mountain.
Babblers, a Mountain Buzzard, Handsome Francolins, Crowned Eagles, and, if you're patient and can wait about 30 minutes, you're nearly guaranteed to see a Purple-breasted Sunbird. Listen for Blue-headed Sunbirds, Mountain Orioles and the ever-present Chesnut-throated Apalis, which sounds a little like a telephone.
You can book the Umugite trail, alongside other trails in Nyungwe National Park, and enjoy a wonderful hiking adventure in the park. Other activities along hiking in the park, includes chimpanzee trekking, colobus monkey trekking, canopy walk and bird watching.