Chimpanzee trekking guideline at Nyungwe National Park, is a key to know for one who wishes to go chimpanzee trekking at Nyungwe National Park. It's very important to know the Chimpanzee trekking guideline at Nyungwe National Park, as this will help you to know the regulations (do's & don'ts while trekking chimpanzee in Nyungwe forest) governing the chimpanzee trekking. The Chimpanzee trekking guideline at Nyungwe National Park, is a general rule, which is applied to all primates, including the gorilla trekking at Volcanoes National Park.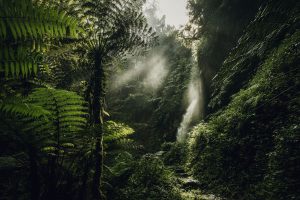 These same general rules are applied to any country with the primates, as they are set to protect both the visitor's and the primates to attain a conservational goal. Such that both parties are safe and protect from each other to avoid any kind of disease transition. There is a minimum age which is allowed for one to be allowed to trek chimpanzee at Nyungwe National Park which is +15 years.
The following are some of the Chimpanzee trekking guideline in Nyungwe National Park
You must be +15 years of age.
Travelers should keep a distance of at least 7 – 8 meters between you and the chimpanzees.
Trackers should follow the rules given to them by the ranger and input at the orientation and during the trek.
Provocation is not allowed to our chimpanzees since they also require freedom.
Smoking or spitting while in the forest.
Travelers who are sick from cold, diarrhea, flu or any other illness cannot be allowed to track chimpanzees.
No flashlights on camera while taking photos because they scare away the chimpanzees.
Guides or rangers are the only way to be able to access the forest trail heads.
Travelers who feel like easing themselves, you should do so off the trail and after burying your waste 30cm deep with tissue used, with a ranger guide. You're advised to use restrooms before heading to the forest.
Keep your voice at a low level so that you can see more chimpanzees interacting with one another.
Travelers should obey the limited number of 8 people allowed to track.
Stay in the group when you meet these great apes in their nature habitats and do not make noise.
You should not drink/ eat in front of the chimpanzees.
Chimpanzee tracking experience can last 2 to 8 hours while tracking depending on their previous location.
You should always follow the guide's instructions.
Trackers are given one hour to observe these unique creatures in the wilderness.
The Chimpanzee trekking guideline at Nyungwe National Park, helps you to be aware of the conservation aim, such that we attain a common goal, towards protecting the world endangered chimpanzees, such that they can stay safe, and multiply in number.
End ever to observe the rules and regulations, governing chimpanzee trekking at Nyungwe National Park. The same rules can as well be applied at Giswati Mukura National Park, which as well is a chimpanzee trekking park, having over 20 individuals, already habituated.