Nyungwe Top View Hill Hotel; is one of the most commonly used accommodation in Nyungwe Forest National Park. Opened in 2011, Nyungwe Top View Hill Hotel is a short drive off the main road, on top of a steep hill. It has been serving as one of the best mid – range (3*) hotel, as the most favorite. The lodge is located on uphill, with a great view of the forest. With rooms, interfacing each other, and parallel. From its hilltop vantage point, Top View has beautiful views across the neighboring forest and tea plantations, and its proximity to the headquarters of Nyungwe Forest National Park makes it is a good base for trekking to see the chimpanzees and exploring the forest.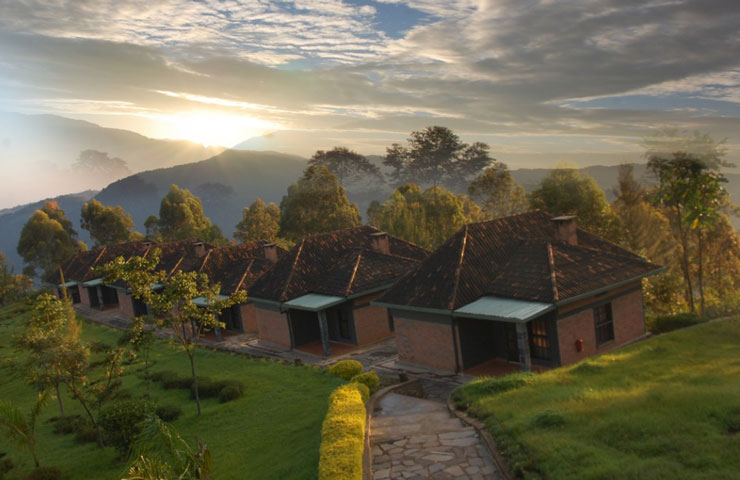 The 12 red-brick cottages at Nyungwe Top View Hill Hotel are ranged in two rows, one on each side of the rondavel, along two sides of the lawn. Every cottage houses a bedroom, a small lounge area at the front, with terracotta-tiled floors, a sofa, chair and coffee table, and a fireplace. Although the furniture is different in every cottage, it is angular and modern throughout, and not of great quality. Even the colorful new sofas and curtains felt a bit mismatched, and the rooms lacked a cohesive design. It also appeared to us that some cottages had been finished to a higher standard than others.
The bedrooms are quite sparse, furnished only with a double, twin or triple bed, a chest of drawers and hanging space for clothes, but they have plenty of space and were spotlessly clean. African patterned throws cover the beds and there is traditional Rwandan 'imigorigo' artwork on the walls. There are no fans or air conditioner, but the team here will put hot-water bottles in your beds on cooler nights.
The hotel offers, both local and continental dishes on site. Those who would wish to just pass by for lunch, can as well make their orders in advance, as the hotel allows those no staying to dine at their open restaurant. As at any other lodge in this area, activities from Nyungwe Top View Hill Hotel focus on those offered by Nyungwe Forest National Park, which is home to a high diversity of wildlife, including 13 species of primates and 37 endemic birds.
You can easily reach to the park headquarters, just 3km away, to start each activity, with enough sleep. No reason to wake up so early to drive, as the lodge is very close, a few minutes' drive away. These include looking for one of the habituated chimpanzee groups; trekking in search of Ruwenzori colobus monkeys; or going on one of many natures walks the forest has to offer. More adventurous travelers may like to try their hand at the high canopy walk!