Among Nyungwe National Park's rich attractions is the Isumo waterfalls the biggest waterfall adventure in the park. The magnificence of Isumo waterfalls tucked away between ferns, thickets and lush vegetation create an experience that most tourists that have visited them testify about. It is from this stunning fall of" Isumo" which means waterfall that Isumo waterfall trail in Nyungwe National Park is derived from.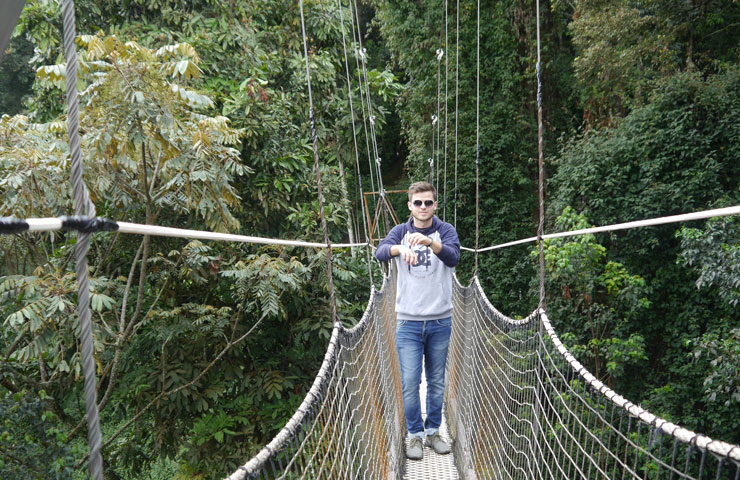 Isumo Waterfall trail is a spectacular trail that starts from Uwinka reception center through the most stunning tea plantations and strolling deep into the rainforests to hike up to the biggest waterfall in Nyugwe forests which is the biggest highlight for this hiking experience, Isumo waterfall trail covers a maximum distance of 10.6 kilometers and takes about 4 to 5 hours to complete the trail circuit depending on your fitness.
Take on an incredible hike to the tropical Isumo waterfalls with experienced guides through dense vegetation and hike up the steep rain forests, to reach the stunning Isumo falls that stand at an elevation of 17 meters above sea level, with water pouring down to produce beautiful misty plumes a rocky river surrounded by ferns, mosses lichens and verdant vegetation.
A day hiking on Isumo Waterfall trail in Nyungwe National Park will give you a cool and relaxed hiking experience while you connect with nature and breathing to the cool moist air through the mist coved tropical rain forests. Strolling up and down through the forests hill sides and taking rounds through the bends on the trail after a few kilometers of hiking, you will be able to watch numerous bird species, butterflies, insects, beautiful wildflowers abundant in this area that will capture a great moment for your moment. Some of the flowers here include white begonias, pink jewelweed and white flowers with heart shaped leaves.
More spectacular moments that tourists have on this Isumo waterfall trail in Nyungwe National Park is the experience through the tea plantation, it gives a whole view of Nyungwe forest from the outside, luckily enough you can spot a few silver monkeys that are always feeding from the edge of the forests. At a certain point on this magical trail, you will be able to get clear views of Lake Kivu and Congo from a far.
There are other hiking trails in Nyungwe National Park that also offer an opportunity to access or sight the waterfalls and they include kamiranzovu trail, imbaraga trail which is the most difficult but with unbeaten scenic views of a number of waterfalls in the park among others.
To get the most rewarding hiking experience on Isumo Waterfall trail take your nature walk early in the morning and be rewarded with numerous primates' encounters, magical sights and enjoy the callings of numerous bird species.
After trekking and discovering one of the top highlights of Nyungwe, you can also add on Chimpanzee trekking experience the most popular activity or choose to visit the Gorillas in Volcanoes National Park which are Rwanda's most remarkable adventure highlight.