Nyungwe National Park is among the Four Rwanda's national park, thus Volcano National Park, which is famous for gorilla trekking and other hiking adventures, Akagera National Park, the only savannah park, for wildlife game view. The park was gazette as national park in 2004, as the country had just started to gain its stability, nestled in the southwest of the country, bordering Burundi, roughly 5 hour's drive from Kigali city.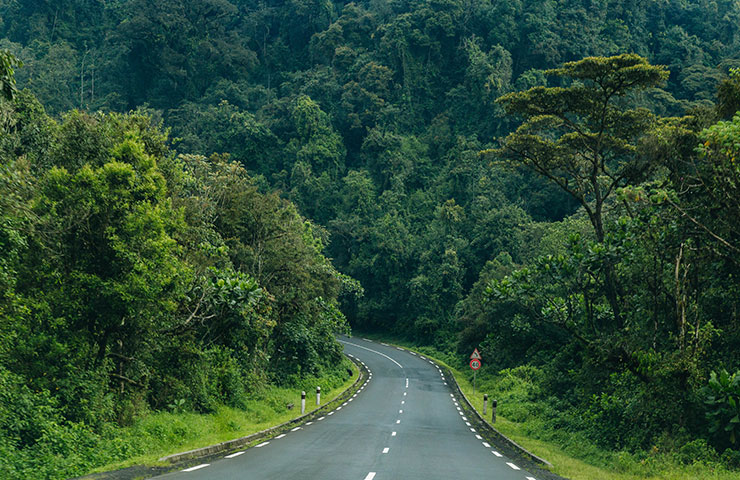 Nyungwe forest, is one of the oldest rainforests in Africa, Nyungwe is rich in biodiversity and spectacularly beautiful. The mountainous region is teaming with wildlife, including a small population of chimpanzees as well as 12 other species of primate, including the L'Hoest's monkey endemic to the Albertine Rift. Sightings of troops of other monkeys, including Angolan colobi, Dent's monkeys, grey-cheeked mangabeys, olive baboons, vervet monkeys and diademed monkeys, are virtually guaranteed.
Nyungwe National Park is also a regional biodiversity hotspot, supporting 1,068 recorded plant species, 322 bird species, and 75 known mammal species, in addition to the 13 primate's species.
Nyungwe National Park is covering 1,019 km2 of dense Afromontane forests, bamboo-covered slopes, grasslands and wetlands. The park feeds two of the world's largest rivers, the Congo and the Nile, and provides 70% of the country's freshwater.
Nyungwe National Park, is famous for the chimpanzee trekking adventure and the canopy walk experience. However there a number of activities that one can involve in during his visit in Nyungwe national park. Other activities includes, nature walk, Nyungwe hiking trails, bird watching, Tea plantation visit, community visit, and colobus monkey trekking
Tucked away in the middle of tea Plantations, the biggest mountain rain forest, has greatly supported the livelihood of the surrounding local community in their farming activities around the park. Tea plantation is one of the famous activities that one can visit during his visit to the park.
The Rwanda Development Board (RDB), entered into a long-term management agreement with African Parks to manage Nyungwe October 2020. Currently the park is being managed by African Parks, for a conservation goal.