Situated far away in the western province of Rwanda in Rusizi district is this Mid-luxury accommodation facility of Mantis Kivu Marina Bay.  The hotel is located just a few kilometers from Kamembe International Airport which makes it easier for visitors that want to explore the countryside of southern and western provinces easier for them to access the facility.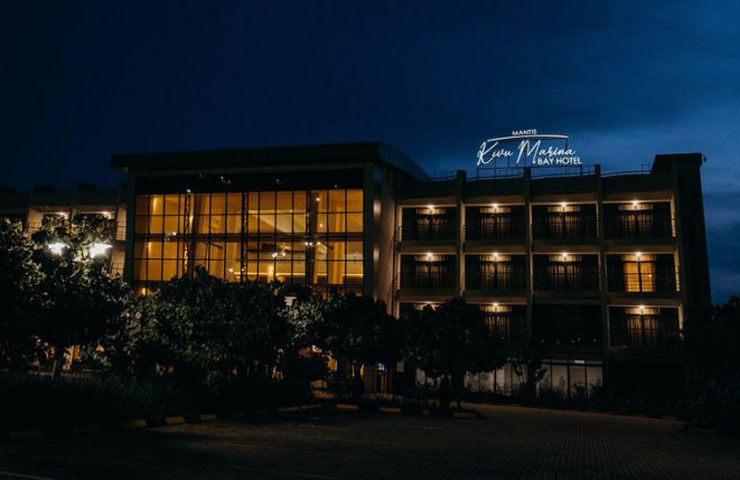 Mantis Kivu Marina Bay is also close to Nyungwe National Park the prime rival and ancient tropical rainforests that home the incredible primates featuring chimpanzee apes among other attractions, and its land touches the shores of Lake Kivu, while staying at this luxury hotel you will enjoy the magnificent views of beautiful Lake Kivu. Mantis Kivu Marina Bay is also in close proximity to the border of the Democratic Republic of Congo, which allows visitors to have clear views and incredible sights of Bukavu City across the border in the Democratic Republic of Congo.
Mantis Kivu Marina Bay is an appealing and comfortable newly opened accommodation that consists of 79 spacious rooms that are categorized in different ways, there are 59 executive rooms, 7 deluxe rooms, 12 family rooms and 1 presidential suite that all credit visitors with views of the beautiful Lake Kivu. All rooms have a local architecture design that blends with the modern styling, and they feature all the room amenities which create a unique feel of class that will give you undeniable comfort.
At Mantis Kivu Bay, there is a large swimming pool and a children's pool, bar, conference rooms, meeting rooms, gym, and three lifts that will all give you a luxury experience while you stay. The hotel offers both touristic and business atmosphere for your work to go smoothly. The hotel also features two restaurants that offer visitors both an indoor and outdoor dining by the pool side that allows you to enjoy stunning views of the blue waters of Lake Kivu and the surrounding environment.
There are many tourism activities that visitors can go for while staying at Mantis Kivu Marina Bay, such as visiting Nyungwe National Park for Chimpanzee trekking, Colobus Monkey trekking, tropical waterfalls hike, and nature walks amongst others. You can also be able to visit the new Gishwati- Mukura National Park for more primate's adventure including Golden Monkey trekking as well as exploring the magnificent Lake Kivu.
You can contact us in order to arrange your customized adventure trip to the other side of the country in the western province of Rwanda, for primate's encounters, and other activities while having a great accommodation experience staying at Mantis Kivu.