Primates in Nyungwe National Park is popularly known as one of Africa's oldest and largely reserved tropical rain forests that has remained intact up to now with a rich biodiversity. The National Park is a spectacular Montane Forest Park known for incredible tourist attractions but most specifically as home to a number of primate's species which include endemics to the Albertine rift. Primates in Nyungwe National Park that have been recorded add up to 13 primate species that include a population of the great chimpanzee apes living alongside numerous species of monkeys that we name below.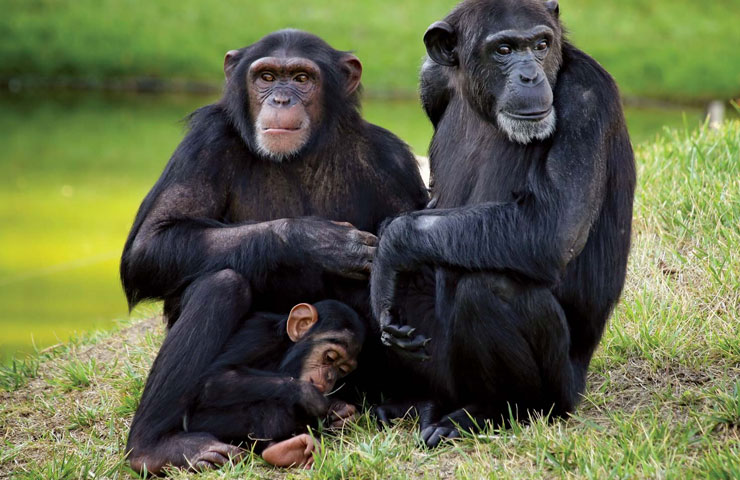 The only pristine adventure destination where you will meet and encounter with the forest chimpanzees in Rwanda is in Nyungwe National Park, the park remains as one of the reserves with the last intact Chimpanzee primates in East Africa and thus homes a population of up to 500 individual chimps. Two groups from the entire population have been habituated for your most remarkable Chimpanzee Tracking adventure which is the most prominent tourist activity in the park.  Observe the chimpanzees in their natural habitat mostly in the early morning hours when there are opportunities of maximum viewing, and the chimps are entirely active, wild and free. It is truly an exhilarating experience to trek the Chimpanzees in Nyungwe National Park.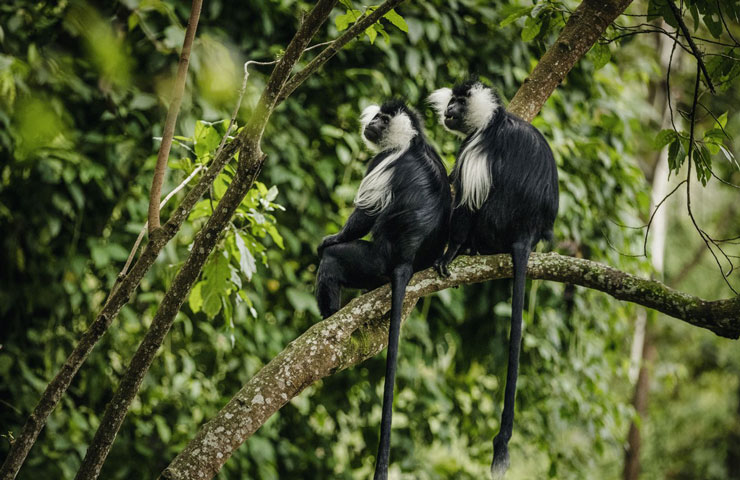 Colobus Monkeys are other Primates in Nyungwe National Park that tourists do observe in the tract forests of Nyungwe, these exciting individuals live in the park as a large group estimated to be between 350 to 400 Colobus Monkeys, with the largest group of Angolan Colobus monkeys in Africa found here. Through Nyungwe's vast and lush rain forests, trek the group of habituated Angolan Colobus monkeys an experience that is less tiresome than Chimpanzee trekking and will delight your soul while you observe these primates in large troops playful from the treetops.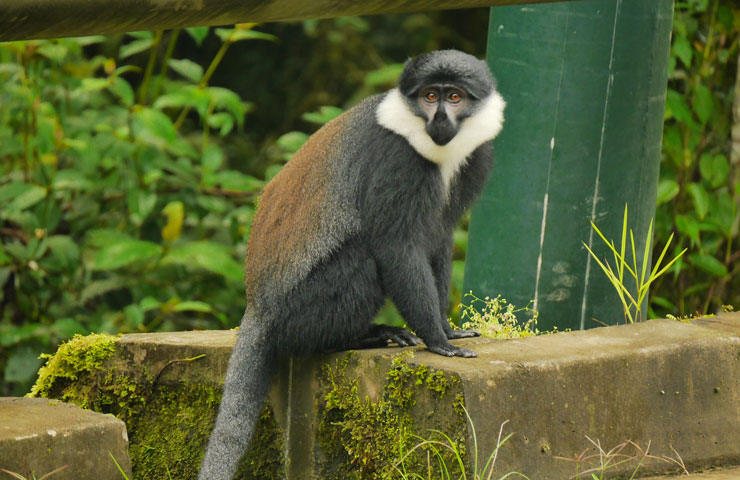 Also known as a mountain monkey, the L'hoest's monkey is an endemic and rare species restricted only to the Albertine rift, found in regions of the eastern Congo basin as well as Nyungwe National Park. The presence of these elusive monkeys distributed in its montane forests has been recorded in the park. The family has been habituated and thus Nyungwe National Park offers a chance for tourists to track this kind of rare monkey specie which is mostly a unique experience.
Other Primates in Nyungwe National Park include a number of monkey species such as silver monkeys, red tailed monkeys, Ruwenzori Colobus, Dent's Mona monkey, Vervet monkey, Hamlyn's monkey, Olive baboons, and Grey-cheeked mangabey.
You can choose to do a primate's adventure safari in Nyungwe National Park as well as compliment it with a more primate experience of Gorilla trekking safari in Volcanoes National Park. In other circumstances tourists choose to track Golden Monkeys which can be found again in Volcanoes National Park or Gishwati- Mukura National Park.