Emeraude Kivu Resort is an affordable and comfortable mid-range hotel accommodation situated in cyangungu city that is found in Rusizi district in the western province, about 141 kilometers southwest of Kigali the capital of Rwanda. This resort facility is well situated at the shores of Lake Kivu, and from here visitors have the opportunity to explore a variety of fascinating tourist attractions in this western province of Rwanda.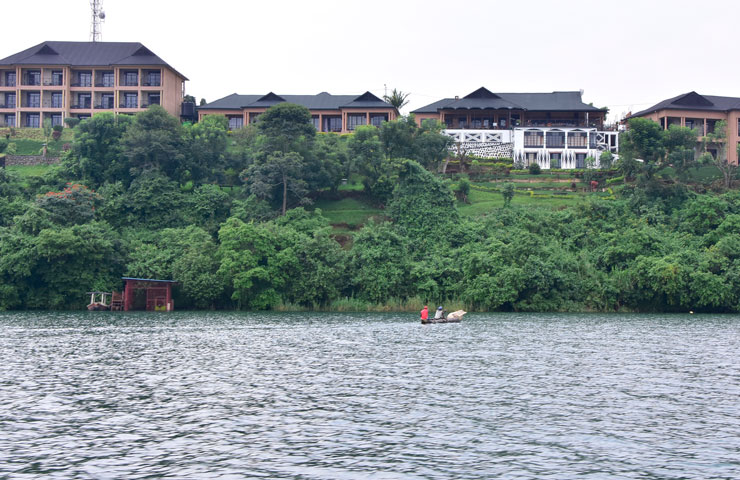 The hotel is just a few kilometers to Kamembe International Airport, visitors can access Nyungwe National Park in just an hour's drive, and it is also in close proximity to the border of Rwanda and Democratic Republic of Congo, you will be able to enjoy clear views across the border in Bukavu city in DRC. Emeraude Kivu Resort is beautifully and uniquely designed with African traditional fabrics that blend with a mix of contemporary modern styling which gives the place a feel of total comfort and relaxation as you connect your soul with nature.
This accommodation facility features self-contained detailed rooms that are perfectly designed with amenities such as internet access, flat TV screen, desk for your reading among others. The rooms are categorized into standard double and single rooms, suite, superior suite, double suite, apartment as well as family rooms, which all give visitors the lake view and overlook the hotel gardens.
While staying at Emeraude Kivu resort, you will enjoy the tranquility of the area as you relax in its cozy atmosphere that makes it a perfect place for your stay. Among the touristic adventures visitors can do include visiting Nyungwe National Park for the primate's adventure featuring the Chimpanzees, Monkeys, the hike to Isumo waterfalls, nature walks and bird watching among others.
Visitors are also able to explore the beauty of Lake Kivu, while doing boat trips as well as enjoying the local fishermen experience, you can hear the singing and rhythms of the local fishermen plying their boats as they depart for their night fishing or return in the morning. Emeraude Kivu resort is also close to tea plantations where you can have a tea tour experience, you can visit the mushyuza hot springs amongst other numerous attractions.
If you are interested in an adventure trip to discover Rwanda from the countryside in the western and southern provinces, you can contact us for a highly customized safari package that includes your accommodation at Emeraude Kivu Resort and get the most rewarding and memorable safari moments.