Chimpanzee Trekking in Nyungwe National Park, in the major attraction at Nyungwe National Park, as many tourists visit the park, to undertake the primate trekking adventure in this great national park. Nyungwe National Park lies in southwest Rwanda, partly abutting the Burundi border. It's a vast area of mountain rainforest, home to many species of chimpanzees, plus owl-faced and Colobus monkeys. The Canopy Walkway, part of the Igishigishigi Trail, is a high suspension bridge with views over the valley and surrounding forests. A trail runs to the Kamiranzovu Marsh, with its birdlife, orchids and waterfall.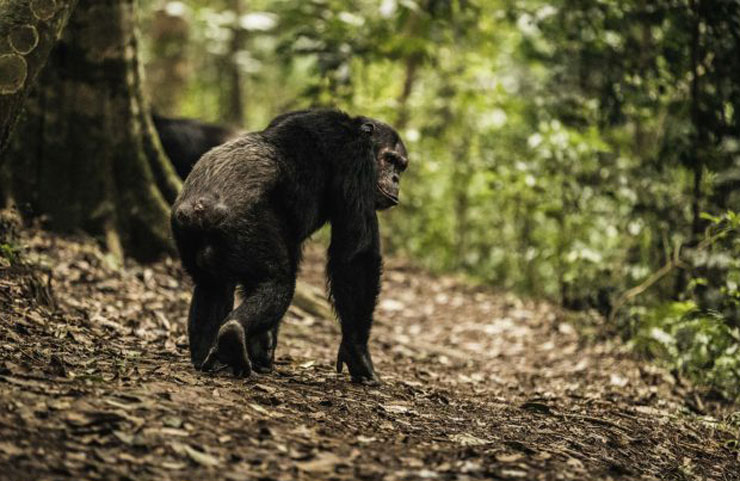 The mountainous region is teaming with wildlife, including a small population of chimpanzees as well as 12 other species of primate, including the L'Hoest's monkey endemic to the Albertine Rift. Thirteen species of primate occur including man's closest relative: the Chimpanzee, L'Hoest's Monkey, Owl-faced Monkey, Mona Monkey, Blue Monkey, Golden Monkey, Red-tailed Monkey, Vervet Monkey, Grey-cheeked Mangabey, Black and White Colobus, Eastern Needle-Clawed Galago, Greater Bushbaby, Dwarf Galago, and Olive Baboon.
On a chimpanzee tracking in Nyungwe, you can encounter other Primates in Nyungwe National Park. The chimpanzee tracking at Nyungwe National Park, can be done in two sections of the park, thus the Uwinka and the Cyamudongo part. The Uwinka is near the park reception, while the Cyamudongo section, which is having a relative greater experience is roughly an hour drive away. The Cyamudongo group consists of about 40 individuals. At certain times, though, visitors might be taken to see a second habituated group, the Uwinka group, which is the largest with around 65 individuals. That said, this group, which is usually found within 12km of the Uwinka Reception Centre, is harder to access.
In most cases the chimpanzee trekkers, wake up as early as 4.30 am, and start of their drive to the trekking point, allocated to you by the park rangers. The chimpanzee trekking has often been very successful, but still as its nature, at a point clients may miss on sighting the chimpanzees, but you will enjoy a rewarding informative guided nature walk in search of the chimpanzees.
When you plan to go, Chimpanzee Trekking in Nyungwe National Park, your advised to carry enough water with you, as well some packed snacks, as the trek, may turn up to take longer than expected. Other than, Chimpanzee Trekking in Nyungwe National Park, one can as well still enjoy a number of activities in Nyungwe National Park, such as colobus monkey trek, canopy walk, waterfall hikes, trail hikes, and bird watching.
The Chimpanzee Trekking in Nyungwe National Park safaris ranges from 2 days chimpanzee trekking in Nyungwe, to 3 days chimpanzee trekking in Nyungwe. You can as well stay longer; in case you would like to do other couple of activities in addition to Chimpanzee Trekking in Nyungwe National Park. One can as well go for chimpanzee trekking in Rwanda at Gishuati National Park, which is a newly introduced primate park that has 20 chimpanzee individuals that have been habituated for chimpanzee trekking.
You can combine your visit to Rwanda, for chimpanzee trekking in Nyungwe National Park with gorilla trekking adventure in Volcanoes National Park, including a visit to Lake Kivu, for boat ride and fishermen experience. Advance booking of chimpanzee permits is strongly advised, as there are only 18 chimpanzee permits per day, on sale. Same as gorilla permits, the demand of the chimpanzee permits is very high, as most people would like to combine both primate activities on their Rwanda safari.
Get in touch with us, to have your Chimpanzee Tracking in Nyungwe National Park safari, arranged for you, in advance and accommodation priory booked as well.