Soak up in the mist of one of the oldest and largely reserved tropical rain forests of Nyungwe National Park in the southern Province of Rwanda, with a number of incredible adventure activities. Nyungwe National Park is spectacular dense rain forest, rich in biodiversity with unique attractions which form a list of what to do in Nyungwe National Park.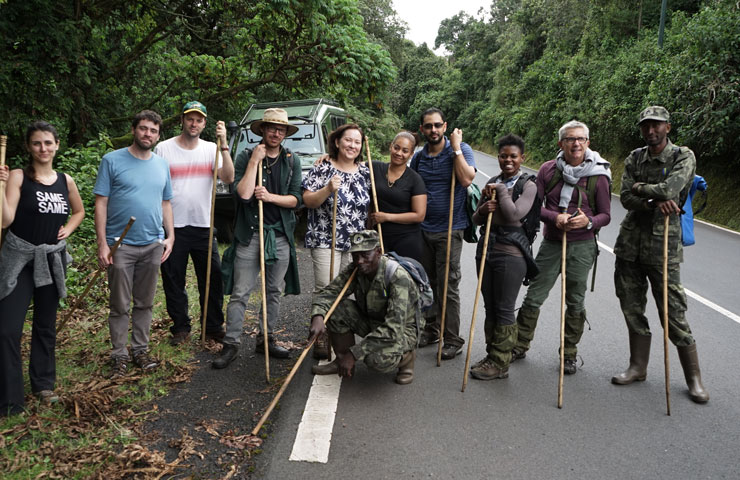 As a home for primates featuring population of Chimpanzees and other primates which include different Monkey species, Primates trekking tops the list of what to do in Nyungwe National Park. Tourists make adventure trips to the far south end of the countryside to spend magical moments with these primates.
Some of the activities of What to do in Nyungwe National Park
Chimpanzee Tracking
There is a great chance of encountering with the great chimpanzee apes in the forest jungle, the most popular tourist activity in Nyungwe National Park, observe them from a very close range and before you know on your Chimpanzee trekking, you will be mesmerized by the sound and sight of a Colobus Monkey jumping between nearby tree branches. The experience for Colobus Monkey Trekking or other monkey species is also another wonderful adventure and this can be done as a separate activity in Nyungwe National Park.
Canopy Walk
The Canopy walk experience is another tourist activity that tops on what to do in Nyungwe National Park, walk through the metallic bridge connecting between forest treetops and have the most magnificent views of the entire Nyungwe forest. The moment of standing right in the middle of the dense forests feels so magical! As you watch a number of bird species, you might catch a sight of some monkey species and beautiful flora.
Bird watching
There are over 322 bird species in this tropical montane rain forest including the 29 Albertine rift endemics, Avid bird watchers should visit Nyungwe National Park- a birders haven for the most rewarding Bird watching experience. Some of the beautiful birds that can be seen include the Rwenzori Turraco, red collared babbler, blue headed and purple breasted sun birds, Francolin, Albertine owlet among others.
Tropical Waterfalls Hiking
The rich biodiversity of this National Park is teaming with stunning and magnificent waterfalls, Get off the beaten track following the waterfalls trail and get to discover the hidden treasures of Nyungwe forest, hiking to the magnificent Isumo waterfalls through the lush green and verdant tropical forests, streams and rivers flowing through the forest floor, will bring to you eye catching moments and total excitement as you get rewarded with incredible sights  of numerous bird species, flora and other wildlife.
Guided Nature Walks
Another tourist activity on what to do in Nyungwe List is the Guided Nature walks within the largest and ancient tropical rain forest, there is a network of numerous, well-marked and perfectly maintained hiking trails, with the company of an experienced guide and park rangers, undertake a breathtaking journey walking deep into the forest with a cool feel to discover the most unique and hidden attractions of the park. There are opportunities to sight a variety of birds, beautiful flora, encountering primate species, stunning view points an experience to try on your own.
Apart from Tourist activities inside Nyungwe Park, there are other fascinating adventures around the park that you shouldn't miss on your visit to the park, and they include Tea plantation tour experience in Gisakura Tea estate, Community visits and cycling around the park. To Plan your safari trip to Nyungwe, reach out to us for a highly customized safari package that meets all your interests and fits within your budget.