There are various possible ways on How to Get to Nyungwe National Park, Despite the National Park being tucked away in the far ends of Rwanda's southern province, the road networks in Rwanda connecting to Nyungwe are safely built and in very good conditions, in that it is very much easier to reach this spectacularly beautiful tropical rain forests of Nyungwe National Park.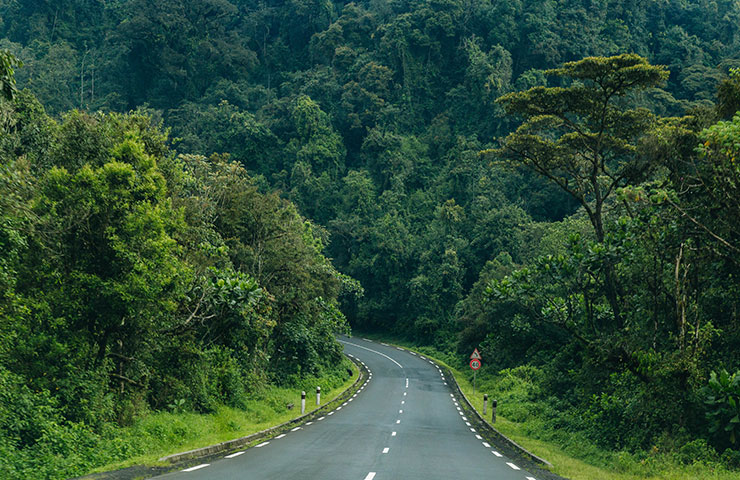 Travel by Road
Upon your arrival in Kigali at Kigali International Airport, you can travel to Nyungwe National Park by road, this is the most popularly known method used to reach the park, most recommended is being booked into a comfortable private car, we operate highly customized car transportation arrangements specifically in 4*4 comfortable vehicles for your private safari to the park.
The driving distance from Kigali to Nyungwe National Park takes approximately 4 – 5 hours depending on your stop overs. The most famous and easiest route from Kigali is via Huye town through Nyamagabe district, using this route you will be able to pass by many historical and cultural sites, have an enroute visit the Royal King's Palace and Ethnographic museums and enjoy the stunning sceneries of the countryside.
Another way on How to get to Nyungwe National Park by road is using the route from Kigali via Karongi town, connecting through Nyamasheke district to reach the park. On this route you can visit some historical sites such as Bisesero Genocide memorial site and you will experience magnificent views of beautiful Lake Kivu shores.
If you are already in Volcanoes National Park which is in the northern province of the country, driving to Nyungwe National Park is by taking the route from Volcanoes via Gisenyi- Kibuye- Rusizi to Nyungwe, the driving experience is so magical that it provides the best views of Lake Kivu, sights of spectacular tea plantations and beautiful sceneries of the countryside.
Use Public means.
Travelling by road to Nyungwe National Park is also possible while using public transportation, there are daily public buses (coasters) from Kigali to Rusizi passing through Nyungwe National Park that one can board from Nyabugogo bus station. However, take note that using public transport takes driving time of 7 – 8 hours to reach the park which is much longer compared to using a private car. The public transport companies that operate Kigali to Rusizi through this Nyungwe National Park include Ritco Express, omega express and Alpha Express, their fares are cheap which can favor tourists travelling on budget.
Travel by Air
The very quickest possible way on How to Get to Nyungwe National Park is by using Air, it is possible to reach Nyungwe by connecting with a domestic flight from Kigali International Airport.
There are always available scheduled flights to Kamembe Airport taking only 40 Minutes and thereafter accessing the park within a 1 hours' drive by road, make sure you have your ground transportation booked in advance for your pickup from Kamembe Airport to the park.
Rwanda air offers flights to Nyungwe with the most scenic aerial views, and you can also use Akagera Aviation that provides helicopter flights for the same route most times landing at One and Only Nyungwe House resort which is much closer to the park.
The most popular adventure activities in Nyungwe National Park include Chimpanzee trekking, Canopy walk, Colobus monkey treks, waterfalls hike, and nature walks. You can reach out to us for a perfectly arranged Rwanda safari package to Nyungwe National Park inclusive of your adventure activities, transportation and accommodation that fits your interests and budget.
You can also check out on How to Get to Volcanoes National Park home to the endangered mountain Gorillas in Musanze Northern province of Rwanda as well as How to Get to Akagera National Park, home to the big 5 African mammals for a Wildlife safari in the eastern province.