Irebero Trail in Nyungwe National Park, is one of the trails in Nyungwe National Park, known for its stunning viewpoints along the way, as the birth to its Kinywarwanda name "Irebero". The trail is also among the 15 hiking trails in Nyungwe forest that is very rewarding during hiking adventure in the forest. Irebero Trail in Nyungwe National Park, is among the moderate trekking trails available in the park that stretches for 3.6 km, which takes rough 3 hours for around trip hike.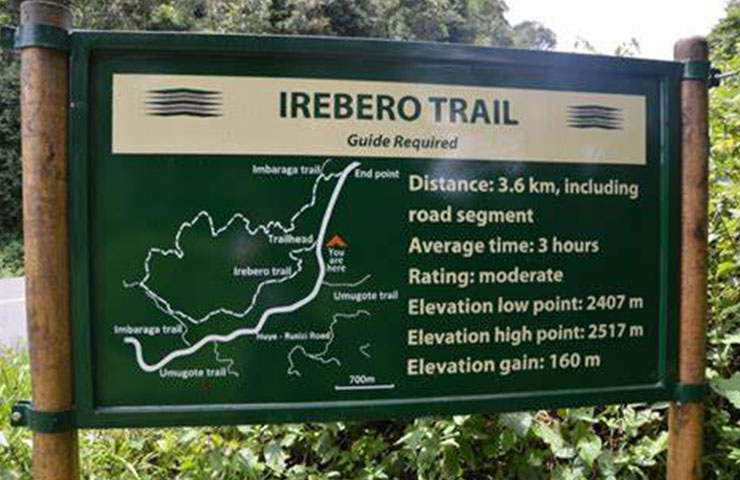 As you hike along the trail, a glance of the beautiful view of Lake Kivu and other part of the forest is observed, as one goes about the trail. You will as well sight the neighboring Rwanda's borders and the forest edge, as you hike along the trail. This trail also takes you on a loop around the two highest peaks that are found in Nyungwe forest. Just like other trails, a number of species of birds, trees and primates can be spotted along the tail, as you go about your day hiking adventure.
For those who love photography and would like to take pictures of the landscape, and great views, this if the best trail to hike, to meet your hiking goals. The hiking can be done year-round, and one can easily book for this wonderful hiking adventure.
One can hike Irebero trail in Nyungwe National Park, along with other trails, and activities within the park such as the chimpanzee trekking in Nyungwe, colobus monkey trekking in Nyungwe, nature walks, canopy walk, bird watching in Nyungwe and much more.
On your visit Rwanda Safaris, for gorilla trekking safari in Volcanoes National Park, end ever to include the Irebero trail hiking as you proceed to Nyungwe National Park, for your safari adventure. Discover the hidden treasure of Nyungwe National Park, by taking a hike, through the Irebero Trail.