Muzimu Trail in Nyungwe National Park, is one of the 15 hiking trails in Nyungwe National Park that is famous, and often hiked by those who love to experience nature on foot. The trail is established in the northeaster section of the park. The trail is roughly 5.2km, which can be accomplished in 4 hour's round trip. The Muzimu trails offers panoramic round view of the entire Nyungwe National Park, including a spectacular view of Lake Kivu. The Muzimu Trail in Nyungwe National Park, begins with the forest zone of the park, and soon later exits into an open view. Much of the trail hiking portion is open, which allows you with greater view opportunity of the surrounding forest edge areas.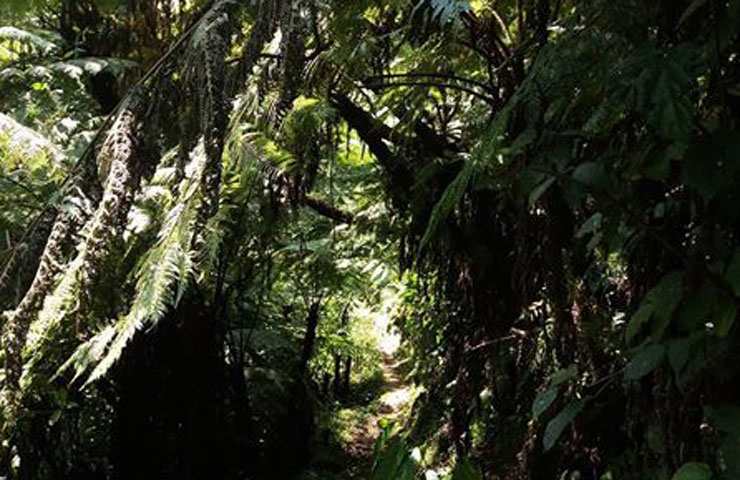 The open woodland allows visitors with great opportunity to encounter some of the birds, which are not forest habitat that do live at the edge of the forest, and on most occasion, a number of sun-tolerant wildflowers, are spotted, as well. Among the flowers to be seen along the trail are heaths, blue and yellow Commelina species, morning glories, wild gerani-ums, yellow starflowers, doll's powderpuff, yellow Senecio, ground and epiphytic orchids, a small pink flowered shrub and aromatic everlastings.
A number of pines can as well be spotted along the muzimu trail; however, the park is trying to eradicate them. On most cases, you start the muzimu trail by hiking, and end by descending it down, which makes it much easier at the end of the hike, as its soft descend. From the open view, the peaks of the Volcano Mountains, home to Mountain gorillas, can be seen, which has made the Mazimu trail so amazing to hike.
Tree plantation garden on steep slopes can as well be seen, but what will surprise you here, how the village farmer manages to get onto the steep hills and manage to care of the plantations. Muzimu Trail in Nyungwe National Park, is an amazing trail, known for its rewarding endless panoramic view, all along the trail, immediately you exit the forest canopy into open aerial view.